ABF selfcleaning backwash filters
---
ABF water filters are automatically self cleaning and have been developed to provide a trouble free way to remove suspended solids from liquids.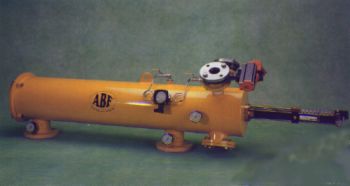 Thanks to unique properties of the filter - high efficiency, reliability, cost savings, ease of use and little maintenance required - it has found its way in many industries.
You can find ABF filters in chemical industry, food and beverage, plastics industry, agriculture, drinking water, sewage treatment etc. Some of the most common applications are filtration of river- or lake water, cooling water / cooling tower systems, in- and effluent filtration, protection of equipment (e.g. heat exchangers, membrane filters, reverse osmosis), irrigation and product improvement.
An example of the latter is filtration of sugar juice, one of the specialisms of Filtermat Holland.
ABF selfcleaning filters work with a local backwash, started by differential pressure. The filters uses the line pressure for back washing. The cleaning principle with small backwash nozzles guarantees a perfect cleaning of the complete filter area, while normal filtration continuous during the cleaning cycle.